Birth Options and Adoption Services
Whether you are dealing with an unintended pregnancy or are interested in adopting
a child into a loving and caring home, we can provide the education, resources and
assistance you need. Lutheran Counseling and Family Services is a licensed outpatient
mental health clinic offering birth options counseling and adoption assistance to all
throughout Wisconsin, regardless of faith, culture or economic status. Licensed
counselors and social workers work with each individual situation to provide the
best outcome for the child, the birth parents, and adoptive families
---
Pregnant and Unsure What To Do…
Deciding what to do with an unexpected pregnancy can be stressful and confusing. Our Birth Options Counseling is designed to address your emotional, psychological and physical needs. Our counselors are licensed and qualified to work with you on a variety of concerns including grief, depression, family conflict, substance abuse or other matters of social or emotional concern. They will place the best interests of both you and your baby as their top priority.

Questions and Concerns (PDF)
Personally and confidentially, our adoption Social Worker will:
Discuss with you your personal thoughts and desires
Assess your situation
Provide resources to ensure both you and your baby are provided the medical care you need
Inform you of the various options you have
Fully support you as you are making important decisions
Everything you need to consider will be presented to you respectfully and honestly to help you decide if you will raise the baby yourself or place the baby into adoption. Our Birth Options Counseling services are strictly confidential. Only others you choose to involve will know. The services we provide are free to birth parents; funding has been arranged through grants and gifts. If you choose to make an adoption plan, be assured that LCFS finds safe, stable, qualified, nurturing parents who are hoping to build a family through adoption. You can help us select the family that is right for your child.

Regardless of where you are in this process, we are available to have a private, confidential conversation with you. We'll provide you with the information, resources and support that you need to make the best decisions.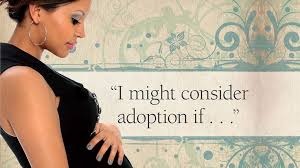 Here's What We Can Promise You:

If you are pregnant and considering adoption, here's what we can promise you:
To provide you with options that are best for you and your baby
To support you through your entire journey, without pressure or opinion
To provide loving families for your consideration
To make available any professional counseling you may need
To listen, to understand, to care
If you are ready to speak, confidentially, to a member of our staff please contact us at 414-536-8333, by email at adoption@lcfswi.org or through the form below. We are ready to listen and help.




Talk to a Birth Mom
Sometimes it's best to speak to someone who has been in a similar position. LCFS has worked with hundreds of women who faced an unexpected pregnancy and chose an adoption plan. Many are are happy to share their insights with you and answer any questions you may have. Let us know if you'd like to hear from someone who has placed a child for adoption through LCFS.